Getting a new puppy? There are a checklist of things to know and buy before bringing your new best friend home. After all, this is a living, breathing companion that survives on more than just your utmost adoration and affection.
Your puppy is going to need to be fed, groomed, walked, bathed and so much more. Fret not, we've got your starter kit right here.
1. Puppy food and treats
Your pup's nutritional needs are based on their breed and size. You're spoilt for choice with the range of premium foods available for puppies of all shapes, sizes and breeds that will support their overall health, oral hygiene, skin and coat as well as their brain and skeletal development. Now for the ultimate decision: wet or dry?
Dry food

Dry food is easy to pre-portion, long-lasting and helps remove plaque from your puppy's teeth. Check the packaging to ensure you're giving them the correct amount. Most premium foods come with a measuring cup, so you can easily scoop their meal and portion it according to their size and age.
Wet food

Wet food is tasty to your pups (it's gotta be that LOVELY smell), hydrating and easy to chew. It also spruces up their meal. Again, check the feeding guidelines to avoid overfeeding as this food tends to be higher in calories.
Wondering why you should feed your puppy a premium diet? Choosing the best food for your dog is easy once you know what to look out for.
Large breed puppies need specially formulated, high-quality food that supports their bones and joints during their super rapid growth.
With that said, feed the best that you can afford. Need help choosing a food that'll suit your pocket? Contact our customer care team to get the perfect fit.
Treats
Just because they need a nutritional diet, doesn't mean they don't deserve a nice yummy treat now and then.
Puppy treats are a great way for you to reward your puppy's positive behaviour during training or as a good night munchie. Be careful not to give into that cute face too often though. You want to keep them at a healthy weight for their overall health.
2. Puppy feeding accessories
Feeding accessories range from practical bowls to delightful dog treat toys that will make your puppy bounce, wiggle, wag and zoom.
Dog bowls
With so many options to choose from—raised, anti-ant, slow feeders, eco, anti-slip, interactive—you really are spoiled for choice when it comes to choosing the perfect bowl for your new best friend.
Drinking fountains
Worried about forgetting to fill up that water bowl? Drinking fountains are a nice alternative as they provide your pup with a fresh stream of water that keeps your puppy hydrated throughout the day.

Treat toys
Your puppy is going to be just as excited and nervous as you are to be arriving at a new home.
There are lots of ways to distract them, but the best way to get those tails wagging is with these ruff n tuff treat toys.
Exactly what they sound like, these are toys that you stuff with delicious snacks to let your puppy chew and play the day away. For example, Sumo toys by Beeztees can be stuffed with kibble and sealed with Doggie Peanut Butter to provide hours of entertainment.
TIP: Only use DOGGIE peanut butter. The regular human sort could be harmful to your pup, as it may contain salt, sugar and xylitol.
3. Puppy health and wellness
Puppies may be cute, but that doesn't mean they're immune to fleas, ticks or worms. Protect your pup against fleas from as early as 8 weeks and against worms from as early as 2 weeks.
Tick and flea

There are quite a few reputable tick and flea products out there that serve the purpose of protecting your pup. These range from chewables, tablets, sprays and dips to collars, shampoos and spot on treatment.

Note that these products are generally only safe from 8 weeks onwards and dosage is dependent on your puppy's size and weight. Always check the directions to guide you.

If you're looking for some extra protection early on, you can protect your puppy from ticks and fleas from as young as ONE day old (yep, that's right) with Frontline Spray.
Deworming
Puppies are more prone to worms, so the best time to start deworming them is from 2 weeks old. Protection is better than cure, so start them off with a tablet, spot on or oral paste.

You'll be doing yourself a massive favour too, as some worms can be spread to humans. Be sure to deworm your household on a yearly basis.
First-aid kit
The world is your puppy's oyster and it can explore outside and play wherever it chooses. With that said, not all environments (or animals) are safe. That's why it's important to have a first-aid kit ready for any accidents that may occur.
4. Puppy travel and safety
Speaking of health and wellness, there are essential travel goodies you'll be needing for your puppy's first couple of vaccinations and vet visits.
Got some questions about vaccinating your pup? We've got answers.
Pet carriers
Pet carriers are ideal for safe travel and trips to the vet. Introducing puppies to carriers early on will allow them to accept it, as opposed to having a fear of it. Throw in some treats and a cuddly blanket to make them feel safe and at home.
Seat belt safety
You wear a safety belt in the car, so why shouldn't your pup? Driving in South Africa is stressful already without having to worry about your puppy's safety. Seat belt safety clips for dogs stop them from jerking around in the car (and making them nauseous). They also protect your puppy from being ejected in an accident. Simply hook them onto your pooch's harness and you're good to go.
Car seats and hammocks
If safety clips and carriers are not for your pup, then you're still spoiled for choice when it comes to travel accessories.

Not only do car seats and hammocks protect your car from loose hairs, dirt and slobber, but they also protect your pooch. Easy to install, these travel accessories are vital for both short and long ventures and travels.
5. Puppy brushing and grooming
Grooming is all about keeping your pet healthy and beautiful. It goes beyond surface-level combing. Time to stock up on puppy shampoos, brushes and dental tools.

Puppy shampoo

Puppies can get super dirty and smelly, which is why it's good to invest in a pup-friendly shampoo. Frequent baths gets them used to it and teaches them to love it, not fear it. Avoid human products, as it has the wrong pH for hounds.

Did you know? Dogs with pink skin areas get sunburn. Check for pink noses, eyes, ears and bellies especially. Stock up on doggie sunscreen to protect them from burn and skin cancer.

Grooming tools

At around 6 weeks, you'll be able to start trimming your puppy's nails with some dog-specific nail clippers (human ones should not be used on your pup as they are NOT the same). Get rid of your puppy (and your) anxiety early by making a weekly routine out of it. This will make you both more comfortable.

Oral care

The right oral care reduces bacteria and plaque buildup, prevents tartar and improves dragon breath (ew). Keep your puppies teeth and gums healthy and prevent them from any oral disease or infections such as gingivitis with a dog toothbrush and toothpaste.
6. Puppy behaviour and training
Adequate puppy training and behaviour management not only keeps your new best friend out of the doghouse but it's also a pawtastic way to bond with them, keeping their mind's active (and their little bodies out of trouble).
Clickers and treats

Keep in mind, your puppy doesn't exactly have the lowdown on what's considered to be 'good behaviour'. The right training essentials, such as clickers, training lines and treats, will ease them into learning training commands, tricks and more.
Training pads

"No, not there—too late" … avoid uttering these words with these essential puppy training pads and spray. Spray the pads and guide your pup to them. This will help your puppy realise exactly the right place to do some business actually is. An added bonus? These pads fit perfectly into crates too.
Crate training
Crates are the easiest way to teach your puppy bladder control, as they don't really want to 'go' where they sleep, so to speak. They're also great for destructive daredevils and nervous nellies (as it provides them a safe place to go to when they're scared).

However, it's important to note that if your puppy is under 6 months, do not leave them in the crate for more than 3 to 4 hours at a time as they have weak bladders and bowels. There's no sense in leaving your pooch in Level 5 lockdown.
TIP: Make crate training a positive experience for your pup by making it comfortable with a bed, blanket and chew-friendly toys. Give them plenty of exercise and love in between training.
7. Puppy cleaning and hygiene
Being a new dog parent, you're going to endure some special (and gross) new surprises. Let's not sugarcoat it. Your cute little pup is going to have some not-so-cute things coming out of every orifice. That's why it's best to be prepared.
Stain and odour removers

Whether your puppy just had a little accident, or ate something it really shouldn't have (and decided to express this by bringing it back up onto your carpet) you're going to have to get used to all kinds of new smells with your puppy.

Thankfully, there are stain and odour removers available that will save your carpets, upholstery and other water-safe surfaces.
8. Puppy toys and entertainment
Puppy toys are great as they stimulate your new best friend's mind and body. They also help them fight boredom when you're away from home, and provide comfort for when they're feeling nervous or excited.
Chew toys
Teething pups are going to search for things to relieve those itchy gums. What they find to soothe that itch is another story. You'll want to prevent them from chewing something that might be a danger to their health, or your personal items.

Because your puppy is going to instinctively chew EVERYTHING, make sure you buy strong, durable chew toys that are made to last.
TIP: Toys come in all shapes, sizes and material and each serves a unique purpose. Unless the toy is 'rough and tough', supervision is required.
9. Puppy beds and blankets
Your puppy needs a space all to itself where it can curl up and take a snooze. Considering that most puppies sleep between 18 and 22 hours a day, having the right bed to support your pup's growing body is vital.

Beds
They need something that's big enough to withstand those quick growth spurts, but it also needs to be able to handle those itchy teeth. Look out for product descriptions that say 'durable', 'tough', or 'strong'. Or, make your life a whole lot easier and check out our selection of dog beds.
Blankets
For those cold breezy nights, you're going to need a cosy blanket to help your puppy feel safe and warm. They also provide your pup with extra comfort and security throughout those stressful first couple of weeks.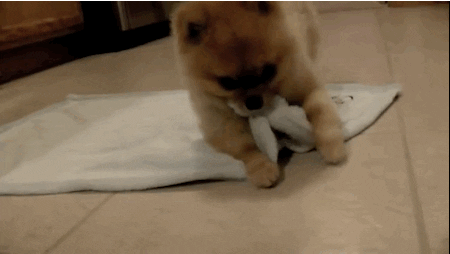 10. Puppy collars, leads and ID tags
Selecting the correct dog-walking essentials is important as you want your puppy to feel comfortable when you take them out and about.
Collars
When it comes to selecting a collar for your puppy, you need to be mindful that they grow fast and you'll be replacing it in a few short weeks. With that said, getting your puppy used to a collar ASAP is a must, as they'll need to wear it for identification (see ID tags below).

Collars also come in all shapes, sizes and materials.
Harnesses
Harnesses are pawfect for taking walks as it prevents your dog from pulling and tugging. You also have better control with a harness, making managing and training your pup a lot easier.
Leads
Leads are essential for venturing outdoors, trips to the vet and socialising. There are tons to choose from—fabric, leather, retractable and more. Each has a different function, so read those product descriptions carefully before selecting one for your pup.
TIP: Avoid letting your puppy mingle with other dogs until after their second vaccination.
ID tags
You can't have a collar without a dog ID tag (and if you live in a complex, you'll know this rule very well). Thankfully, ID tags are pretty adorable, but they also give your pup identification prior to them being microchipped (something else to add to your 'to-do list if you haven't already).
NEED SOME HELP?

Having some pet-parent anxiety? Don't worry, you're welcome to give our customer care team a call. Whether you need extra reassurance, or if you have a general query, we'd love to assist.